Primarily, M-Files enables the elimination of information silos, which have a negative impact on the daily activities of an organization. It provides quick access to the right data and content and is easy to use on a daily basis. This tool helps with classifying and correctly organizing databases and allows information to be managed by what it is, not where it is. M-Files can be installed in the cloud, on premises, or as a hybrid solution. In the age of cyberattacks, data securit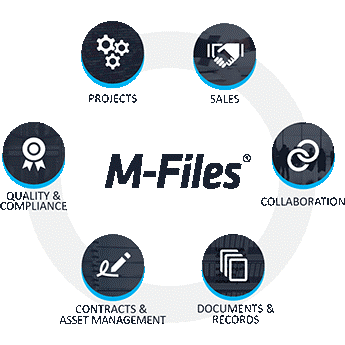 y in the network is extremely important, and M-Files is an ISO 27001 Certified ECM provider. It includes check-in/check-out with audit trails, secure metadata-driven user access permissions, and prevention of data-loss, etc. M‑Files open architecture supports connectors to other systems and repositories, including network files shares, email, file-sharing services, CRM, ERP, and legacy ECM systems, etc. With the development of the legal market, the demand for dedicated IT solutions for law firms has increased. Lawyers need IT tools that facilitate gaining and maintaining clients, as well as efficient management solutions.
Running a law firm requires efficient document management. Companies from the legal sector have to deal with immeasurable quantities of documents, which need to be safely stored, shared and explored. Moreover, these documents usually contain confidential information and may be available only to selected employees.
The day-to day activities of a law firm consist mainly in meeting deadlines. It is essential to be able to check and change dates and mandatory approvals easily, as well as find information and operate a smooth document flow. The changes applied on documents should be immediately visible to others. Also, restricting access to some documents is crucial. Documents should be easy to find but only for employees authorized to do so. Tracking changes, easy and quick access to the most current version of a document, or to an output document, help save time and accelerate the work process. Due to the specificity of the activity of law firms, it is necessary to be able to sort documents according to different requirements, such as by case or by client's name.
In the age of digital information processing, it is very important to securely store the documents, due to the information contained, but also securely share it with the clients, experts, notary publics, etc.
It is important to be able to convert scanned documents into searchable, indexed PDF files, which can be sorted by user preferences. The ability to search files not only by the title, but also by the content is very useful.
In practice, it is a meaningful challenge for a law firm to select an appropriate DMS software that optimizes the document management process, helping to realize the above requirements, among others, with respect to keeping sensitive information in appropriate devices, as well as improving the flow of information. Implementing an appropriate DMS system is primarily influenced by the size of the company and the type of practice provided. Both factors have a significant impact on the number of documents processed.
In summary, M-files is a perfect and safe tool responding to all the above-mentioned needs of law firms for document and information flow management. It allows firms to save time and improve efficiency.
Article based on:
http://www.abajournal.com/news/article/heres_the_legal_lowdown_on_document_management_software
https://www.m-files.com/en/about-m-files
https://www.inc.com/technology/m-files-document-management-system-review.html
http://successpoint.pl/prawnik-2016
---
[1] https://www.inc.com/technology/m-files-document-management-system-review.html
[2] https://www.inc.com/technology/m-files-document-management-system-review.html