Respondents stated that in contrast to last year's surveys, where the most important were the procurement of the GDPR and data security, this time they took into account, among others integration, automation, leading with AI/ML, and collaboration.
M-Files was appreciated i.a. for the same licensure for on-premises and cloud deployments. End-users were also satisfied because of common and automated updates, which do not need IT assistance. Moreover, system is repository – neutral. That means that it allows to have an access regardless of location, while maintaining data security, including GDPR compliance.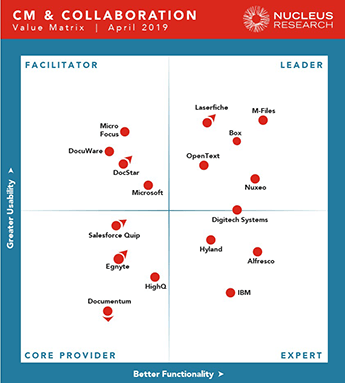 M-Files allows to search for data by what it includes instead of where it is, and this functionality distinguishes M-Files among other ECM solutions.
M-Files position in the Leader quadrant is supported by its strong technology, user-centric functionality, and robust usability. Nucleus expects that M-Files will continue to set the standards for content management functionality in the near future.